Freestyle Includes: Data Demo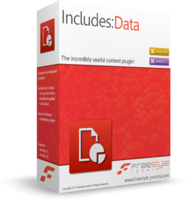 The incredibly useful content plugin!
Freestyle Includes: Data is a content plugin which allows you to create a template for displaying data in your website. This could be a list or set of tables and include images, its really up to you! Create the template you like and use throughout your website without having to define your layout each time.
The demo site is currently running Freestyle Includes: Data v2.6.0.1994
Please use the menu on the left hand side to select an example you would like to see.